Image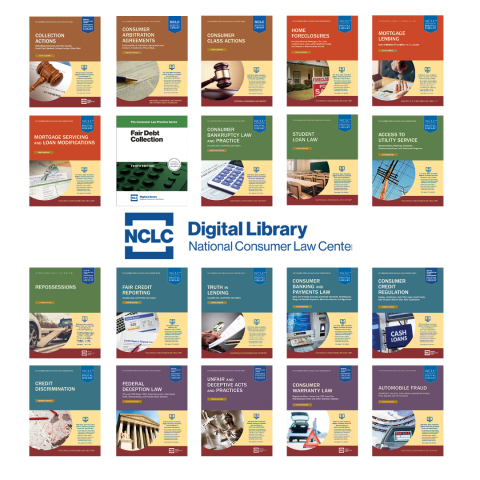 The National Consumer Law Center (NCLC) is the nation's consumer law expert. NCLC is a non-profit that since 1969 has been dedicated to helping consumers, their advocates, and public policy makers use powerful and complex consumer laws on behalf of low-income and vulnerable Americans seeking economic justice. Read our story to learn more.
The NCLC consumer law treatises were first published in 1982, and have been expanded and updated every year since then. There are now 21 consumer law treatises, many of which are well over 1000 print pages, not counting thousands of sample pleadings, practice aids and primary sources that are available online with the titles.
In March, 2015, NCLC moved online the full text of all 21 treatises, featuring advanced searching, fluid navigation, html format allowing easy reading on tablets and smart phones, live links, and full integration of the thousands of pleadings, primary sources, and practice aids. Each treatise is regularly updated and the online versions are capable of adding new developments almost immediately.
Readers can subscribe to individual titles or the complete 21 treatise set, and they can subscribe to the online version only, or opt for print and online where the subscription includes the current print edition and any print revision issued during the subscription period. Relevant pleadings, practice aids and primary sources are included online with each title's subscription and a subscription to the whole set includes over 5000 such supplementary online materials.
The principal treatise authors are typically NCLC staff attorneys, often with more than 21 or even more than 40 years of consumer law expertise. In addition, scores of other practicing consumer law attorneys from every part of the country contribute to the titles. This makes each treatise a unique combination of comprehensive and definitive authority from the experts plus practical insights and practice tools from attorneys seeing real clients and handling real cases on a daily basis.
As a result, NCLC consumer law treatises are often referred to as the "bibles of consumer law," both by consumer attorneys and those representing creditors and merchants. 
Praise for NCLC Publications
"This series written by nationally recognized experts in consumer law combines perceptive analysis with a comprehensive collection of case references, statutory laws, regulations and practice hints. These volumes should become a standard reference set for attorneys advising and litigating in consumer and credit areas."
—ABA Journal
"NCLC has been the go-to resource on consumer credit, collections, bankruptcy and sales for more than 40 years."
—Sen. Elizabeth Warren
Founder, Consumer Financial Protection Bureau
"National Consumer Law Center materials are among the most popular sources in our Collection. Whether they represent sellers and lenders or buyers and borrowers our attorney members keep consulting them because they know they will find answers to their questions in these thoroughly researched and clearly written manuals."
—Brian Harkins, Supervisor of Reference Services, Social Law Library (founded in 1803)
"The National Consumer Law Center has come to the rescue of lawyers handling consumer cases. The Series has the answers for the myriad questions that can arise. The analysis of the law contains an extensive study of state statutes and generous footnotes citing case law in every state."
—Texas Bar Journal